Media
Lamda Literary: 20th Century Limited
03. Oct, 2013 by Damian Serbu in Reviews, Speculative
The maturation of LGBT literature provides a vast array of authors, genres, and styles from which a reader chooses what books to enjoy. What a pleasure to see such diversity for our community, which once struggled to publish even the best of writers. New authors abound, coming from a solid amount of publishers. Yet within the new and unique, I often long for the familiar, the safe and sure hands of a polished writer known for creating literary classics that will always remain important works of gay literature. Picking up Felice Picano's latest volume, 20th Century Un-Limited, provided this kind of comfort and assurance. I can't imagine being in the hands of a better storyteller.
Picano journeys down a daring and dangerous path in these two novellas, which take up time travel as their principle subject. In the first, Christopher Hall begins in the current era, enjoying life just past middle age, when a strange encounter leads him on an expedition back to the 1930s. The second story introduces the mystery of disappearing people, all somehow connected through different ages by a plot of land in Wisconsin. Thank the writing gods for Picano's skill because in a less adept hand, these time-bending scenarios could confuse the reader or prove so maddeningly unrealistic that even the most fervent science fiction enthusiast's head might spin. Instead, Picano weaves in and out of different decades, centuries even, with ease, explaining the plot and setting so effortlessly that it reads as clearly as a chronological history.
- See more at: Lamda Literary
Twelve O'Clock Tales, by Felice Picano
Bold Strokes Books/Liberty Editions.
236 pages, $16.95 paperback
Book Review by Richard Labonte
Gay Calgary Magazine
From July 2012 (Online)
Think of Picano as a queer literary renaissance man. He writes plays and screenplays, poetry and memoirs, sex manuals and sexy thrillers, historical novels and – this is his fourth collection – short stories. These 13, he notes in a preface, pay homage to writers he savored as a young man (and still reads), the likes of Edgar Allen Poe, H.P. Lovecraft, Nathaniel Hawthorne, Saki, Algernon Blackwood, Walter de la Mare and others of their dark, ghostly, eerie and sometimes downright weird ilk. In that sense, Picano is also something of a literary chameleon – there are echoes of each of these writers, and all of those sentiments, in this solid collection. The first, "Synapse," is a creepily science-fictional account of how an elderly man has come to inhabit a boy's body; the last, "The Perfect Setting," is a masterpiece of detection, wherein an obsessive narrator solves the mystery of a landscape painter's murder. Not a one of the stories is like another, such is Picano's wide-ranging imagination; what they have in common is their power and their polish.
In Conversation with the Violet Quill: Andrew Holleran, Felice Picano, and Edmund White
by Frank Pizzoli for Lambda Literary
April 10, 2013
In November 1980, New York's SoHo Weekly News tagged a cover story Fag Lit's New Royalty, referring to Andrew Holleran, Felice Picano, and Edmund White, alive today, and Christopher Cox, Michael Grumley, Robert Ferro, and George Whitmore, who have died. Since the publication of that story, which was subtitled A Moveable Brunch – A Fag Lit Mafia,they have brought out the best in admirers and the worst in detractors.
Collectively the seven authors became known as The Violet Quill, meeting only eight times between March 31, 1980 and March 3, 1981. They had a sample "reader" published, emerging later as titans of gay male literature. Their sexual affairs with each other were labyrinth but not unusual in New York City at the time.
Although their status as individuals in gay literature has never been creditably challenged, the Quill's crowning as an influential group has been called a myth by some, their influence criticized by others.
Huffington Post - Gay Voices
Edmund White and

Felice

Picano

Discuss Gay Literature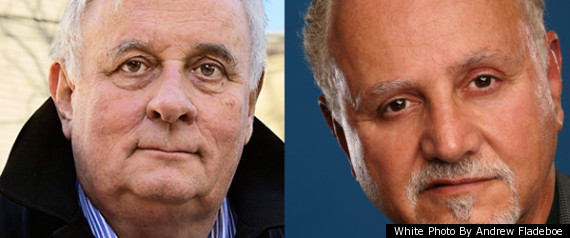 This month we've invited several LGBT authors to participate in our first ever Voice to Voice conversation series. Throughout January we'll feature intimate interviews between novelists, poets, playwrights, and writers as they discuss everything from the state of LGBT literature to sex and sexuality between the pages to the joys and challenges of writing about LGBT issues, themes, and lives.
Our first conversation is between Felice Picano and Edmund White. Both men were part of The Violet Quill, a legendary writing group that produced some of the greatest gay writers of the late 20th and 21st century.
Reviewed by Jerry Wheeler
April 2011
Out in Print: Queer Books Reviews
Felice Picano is a bona fide legend who has not only been around the block, he's paved a few as well, so you'd expect a memoir of his to be name-droppingly dishy. And you'd be partially correct. But True Stories works best when it's telling Picano's stories, not those of Diana Vreeland, W. H. Auden or Tennessee Williams.
Don't get me wrong—the chapters on the above celebrities are definitely worth reading and Picano surely has volumes more of them. But a life is not merely comprised of the famous people one encounters. Picano has included some of them—after all, it's what readers expect in a memoir of a gay literary icon—but he uses them to augment some wonderful chapters starring not-so-well-known luminaries as well as a few childhood memories that will stick in your head longer than any of the profiles.
We meet fellow Violet Quill members Robert Ferro and Michael Grumley (and the ghost in their home) in a particularly engaging episode that details the couple's lives and deaths as well as illustrates the somewhat prickly relationship Ferro and Picano had—or rather that Ferro had with everyone. He also introduces us to surrealist poet Charles Henri Ford and the difficulties Picano had with reprinting Ford's 1933 novel The Young and Evil.
<<

Start

<

Prev

1

2 Next > End >>


Page 1 of 2