Huffington Post - Gay Voices
Edmund White and

Felice

Picano

Discuss Gay Literature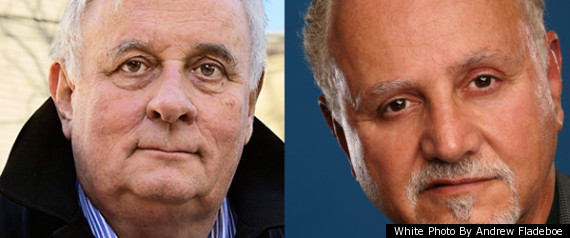 This month we've invited several LGBT authors to participate in our first ever Voice to Voice conversation series. Throughout January we'll feature intimate interviews between novelists, poets, playwrights, and writers as they discuss everything from the state of LGBT literature to sex and sexuality between the pages to the joys and challenges of writing about LGBT issues, themes, and lives.
Our first conversation is between Felice Picano and Edmund White. Both men were part of The Violet Quill, a legendary writing group that produced some of the greatest gay writers of the late 20th and 21st century.
Lambda Literary Awards - 2009
Feinberg, Holleran, Picano & White to be honored with 2009 Pioneer Awards
by CHARLES FLOWERS
LambdaLiterary.org
MAY 27, 2009
April 7, 2009—The Lambda Literary Foundation has named Leslie Feinberg, Andrew Holleran, Felice Picano, and Edmund White as this year's recipients of its Pioneer Award, to be presented at the Lambda Literary Awards Ceremony on May 28, 2009 in New York City.
The Lambda Literary Foundation bestows its Pioneer Award on those individuals who have broken new ground in the field of LGBT literature and publishing. Established in 1995, the Award honors those who, through their achievements and passionate commitment, have contributed to the LGBT literary community in significant and tangible ways: through works of literature, or by establishing publishing houses, publications, archives, bookstores, or other institutions.
"My Pioneer Award sits prominently on my bookshelf, each day signifying that I've made a meaningful contribution to the literary community I love. No other award could possibly mean more," observes Katherine V. Forrest, recognized in 1998 for her body of work and literary activism. Other recipients include L. Page "Deacon" Maccubbin, Lambda Rising; the Astraea Foundation (2001); Barbara Grier, Naiad Press (2002); Amazon Bookstore Cooperative (2003); Samuel R. Delany (2004); Blanche Wiesen Cook (2004); Martin Duberman (2007); Marijane Meaker (2007); Ann Bannon (2008); Malcolm Boyd (2008), and Mark Thompson (2008).