Going Too Far, For Everyone's Sake
A nice surprise! Someone pointed me to the P.E.N. Club of America Facebook page which put up an odd photo of me but with this quote "The main purpose of censorship is to promote ignorance, whether it is by lying and bowdlerized texts or by attacking individual books." The quote is from my blog at the Huffington Post's Banned Books issue and you can read the entire essay here: FelicePicano@HuffingtonPost
The envelope was from Her Majesty's Inland Revenue and Customs Service, located at a dock outside London, England, addressed to the publisher of Gay Presses of New York. I was one of the three owners of GPNy so I opened the envelope and read the letter. In the politest possible language I was informed that the 20 copies of my memoir, Ambidextrous: The Secret Lives of Children, intended for Gay Is the Word Bookstore at Russell Square, had been "seized by the signatory, declared obscene, and destroyed by immolation."

That was in 1989. Since my early twenties I had done as much as possible to protest and rebel against a society I had hopes for and wanted to reform. More than one person had told me, in no uncertain terms, "Some day you will go too far!"

That day had arrived: it was March 17, 1989.

I was astounded and at the same time I was very pleased. I'd never been censored before. Having a book censored means something. It means you have deeply offended one or more people who felt they needed to protect unsuspecting readers from your inflammatory words, thoughts, and images. Before this occurred, I'd been nominated for important literary awards, I'd had a few bestsellers, my books had been translated into many languages, but nothing before this had ever truly satisfied me that I was having any real effect as a writer.
The Bookstore That Bewitched Mick Jagger, John Lennon, and Greta Garbo
The Rizzoli in New York City was no ordinary bookstore in its '70s heyday. Celebrities flocked to this glamorous and buzzy temple of literature and culture.
From The Daily Beast
December 16, 2014
When Rizzoli bookshop closed this past year on 57th Street, many people lamented its loss. It was the last really elegant shop of its kind left in Manhattan. But for some of us, while its closing was sad, it was a tempered sadness. After all it wasn't the real Rizzoli bookstore that had opened at 712 Fifth Avenue in the 1960s. That particular shop, sold to Bendel a decade ago or so before, had been the ne plus ultra of American bookstores. Those of us who worked there during its glory years in the 1970s and early 1980s knew how absolutely unique it was, as I hope to show in my book, Nights at Rizzoli.
Italian media mogul Angelo Rizzoli had an empire of newspapers, magazines, and radio and television stations throughout Italy, and bought the building because his reporters and media staff needed a New York headquarters. The bookstore was opened as a way of presenting Italian books and culture to Manhattanites.
It was never intended to do anything as vulgar as actually earn money. If anything, it would lose money gently, elegantly, hopefully not very much at one time. Because the shop was emblematic of that peculiar Italian institution known as La Faccia, i.e. presenting the best face possible.
And did it ever! Situated between 55th and 56th streets on what real-estate brokers dubbed Millionaires Row, Rizzoli was next door to Harry Winston Jewelers, across the street from Tiffany's and George Jensen Fine Glass.
Article continues here
Huffington Post - Gay Voices
Edmund White and

Felice

Picano

Discuss Gay Literature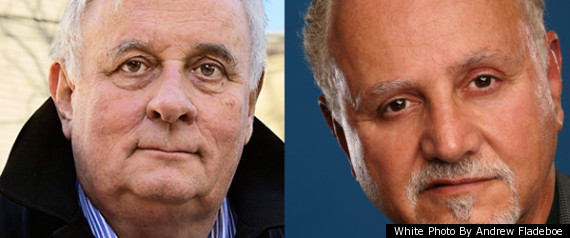 This month we've invited several LGBT authors to participate in our first ever Voice to Voice conversation series. Throughout January we'll feature intimate interviews between novelists, poets, playwrights, and writers as they discuss everything from the state of LGBT literature to sex and sexuality between the pages to the joys and challenges of writing about LGBT issues, themes, and lives.
Our first conversation is between Felice Picano and Edmund White. Both men were part of The Violet Quill, a legendary writing group that produced some of the greatest gay writers of the late 20th and 21st century.
A 20th-Century Life
from Huffingtonpost.com
Felice Picano
posted: 07/17/2014
If that early biographer and arch-gossip, Plutarch, were alive in 2014 and writing an updated version of his Lives, he'd do far worse than include in his gallery of contemporaries the singer, dancer, choreographer, filmmaker and entrepreneur, Wakefield Poole. At least, according to Jim Tuskhinksy's sweeping new documentary movie, I Always Said Yes: The Many Lives of Wakefield Pole that premiered at Los Angeles' Outfest film festival this past weekend.
If Poole's name isn't familiar, perhaps you may know one of the films he made, which in 1971 and 1972 helped to alter everyone's view of what a gay man was and could be -- most famously Boys in the Sand. Poole is to gay film and especially gay porn what D.W. Griffith is to the film medium in America: the originator and first master. And unlike Griffith, Poole's movies can be watched without flinching some 40 odd years later. To my mind Bijou is a classic.
I was at the Poole movie premiere because I'm in the film, one of the "talking heads" who contextualize what we see on screen. Also, because Wakefield Poole touched my life through his art, almost through a career choice -- about which later -- but mostly through the unique and beautiful men on the scene we knew, now gone, among them the famous Casey Donovan.
...
Lambda Literary Awards - 2009
Feinberg, Holleran, Picano & White to be honored with 2009 Pioneer Awards
by CHARLES FLOWERS
LambdaLiterary.org
MAY 27, 2009
April 7, 2009—The Lambda Literary Foundation has named Leslie Feinberg, Andrew Holleran, Felice Picano, and Edmund White as this year's recipients of its Pioneer Award, to be presented at the Lambda Literary Awards Ceremony on May 28, 2009 in New York City.
The Lambda Literary Foundation bestows its Pioneer Award on those individuals who have broken new ground in the field of LGBT literature and publishing. Established in 1995, the Award honors those who, through their achievements and passionate commitment, have contributed to the LGBT literary community in significant and tangible ways: through works of literature, or by establishing publishing houses, publications, archives, bookstores, or other institutions.
"My Pioneer Award sits prominently on my bookshelf, each day signifying that I've made a meaningful contribution to the literary community I love. No other award could possibly mean more," observes Katherine V. Forrest, recognized in 1998 for her body of work and literary activism. Other recipients include L. Page "Deacon" Maccubbin, Lambda Rising; the Astraea Foundation (2001); Barbara Grier, Naiad Press (2002); Amazon Bookstore Cooperative (2003); Samuel R. Delany (2004); Blanche Wiesen Cook (2004); Martin Duberman (2007); Marijane Meaker (2007); Ann Bannon (2008); Malcolm Boyd (2008), and Mark Thompson (2008).